Do you think your organization would benefit from improving the strategic alignment of projects? Would you like to do something about it?
The best way to get started is by performing a health check of your current portfolio. This will help establish a baseline for how well your projects and resources are supporting your strategic goals. An audit is a very cost-effective way to make the "need for change" visible, supported by real data. It's also a great way to build the business case to support any necessary changes.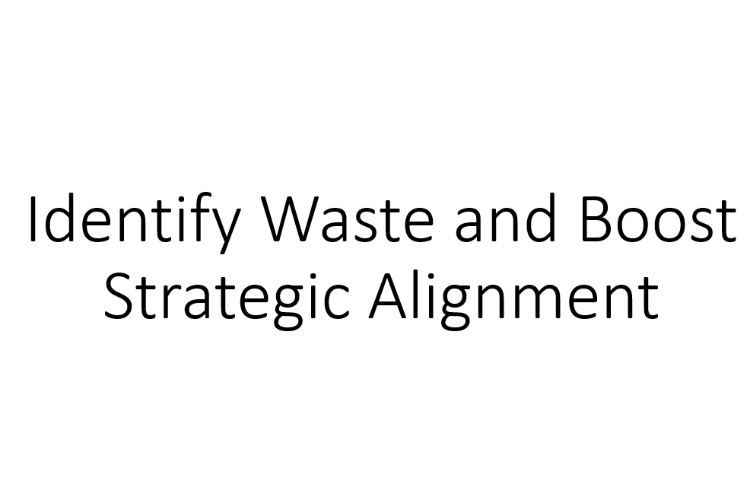 This demo is an opportunity to see how to carry out an audit of your portfolio. Our expert will take you through the analysis of our demo portfolio so that you can see the steps you would follow on your own or with our support.
The demo is also an opportunity to discuss your own situation and how to get started. In most cases, the best first step will be to perform similar analysis of your portfolio.
During the demo we will show you how to:
Prioritize business goals
It's kind of obvious, but if you don't know what strategic alignment means, it's impossible to align your projects with strategy and poor alignment is the root cause of many project failures.
During this demonstration, we'll show you how to make the disconnect between your executives visible and how to help them come to agreement over the definition of strategic alignment.
Measure alignment of projects
During this demonstration, we'll show you how to generate a strategic alignment score that lets you identify high- and low-value projects. We will show you how to clearly identify which projects support your goals and which don't.
Prioritize projects and allocate resources
\We'll show you how to identify the most important projects and how to prioritize them. We'll show you how to identify low-value projects that are consuming resources and high-value projects that are being starved.
This will let you use real data to recommend how to reallocate resources to improve the strategic impact of your project portfolio.
Select new projects
During this demo, we'll show you how to capture and evaluate project requests in a way that has strategic alignment built in from the start. We'll also look at how to integrate them into your existing portfolio.
Balance your portfolio
Balance is an important aspect of any portfolio. The most obvious, and most important, balancing act is between the number of projects and the capacity to deliver them. But you also need to balance the risk of your portfolio, which departments are getting projects and how much change you're inflicting on parts of the organization.
During this demo, we'll show you how to achieve Zen-like balance across your portfolio.
Identify wasted investment
During the demo, we'll show you how to use the alignment score to identify waste in your current portfolio in a quantitative way. This will help you build a strong business case for changing the way you measure strategic alignment and select projects.
Diagnose and fix the portfolio intake
Finally, we'll show you how you can use your strategic alignment map to increase the number of high-quality, well-aligned projects and to overcome initiative overload. We'll also show you how to capture project requests and to build strategic alignment in to the evaluation process.
Get started...
Fixing strategic alignment is a significant change. During the demonstration, we'll walk you through the whole strategic alignment process, but the main focus will be giving you some good small steps to get started and to help you build support.
Book a meeting now and see for yourself!